A Hidden Gem!
Situated alongside the canal at Newbridge is the M S Therapy Centre.  Set up in 1986 to help people who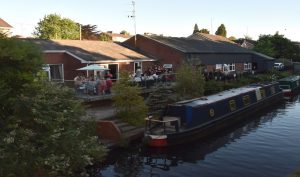 suffer from Multiple Sclerosis.  A warm welcome awaits visitors in a lovely setting backing on to the canal. Members and their families/carers can sit around the large table and chat while waiting for their appointments.  On sunnier days the terrace is available to watch the world go by (or the odd narrowboat or two).
Our charity has been providing therapies and support to our members and their families/carers in the local area and throughout the West Midlands, Shropshire and Staffordshire for 33 years in September this year.  The centre has a small staff team and a number of volunteers who give their time each week. Members self-refer to us who have Multiple Sclerosis, other neurological conditions, along with members who have cancer, strokes, sports injuries and more.
The centre offers oxygen under pressure in a chamber and more recently members who cannot go in to the chamber for what- ever reason can sit outside of the chamber breathing oxygen through a mask.
We offer physiotherapy, reflexology and other holistic therapies such as massage, reiki and psychotherapy.
Our objective is to be able to continue to offer our services to our members who currently use our lovely facilities but also to try and help more families out in the community who may need our support.  To enable us to do this we have to raise over £150,000 per annum.  Our members pay a contribution towards the cost of their therapy and we are very grateful to receive donations from  organisations such as the James Beattie Trust whose recent donation of £2125.00 will go towards helping the centre become C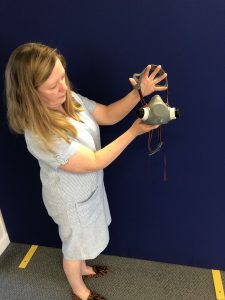 OVID safe for our members enabling them to have their own masks when they return following the lock down .
Wolverhampton & District M S Therapy Centre Ltd. Registered Charity No. 701791
Meadow View Wharf, (off Tettenhall Road), Wolverhampton, WV6 0JT Tel: 01902 744888.
Email: admin@mscentre.co.uk.  Website: www.mscentre.co.uk
 www.facebook.com/wolverhampton