Canal & River Trust is the charity that looks after and brings to life the nation's canal network.  We are delighted that th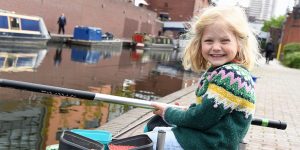 e trustees of James Beattie Charitable Trust are supporting our Let's Fish! project in Wolverhampton. 
Through Let's Fish! we will deliver free hands-on angling coaching sessions on Wolverhampton's canals to encourage people of all ages, but especially children and their families to enjoy fishing on their local waterway.  Wolverhampton is blessed with many miles of canals which are within easy walking distance for lots of people.  Fishing is a great way to experience the health and wellbeing benefits of being outside and reconnecting with nature and can be enjoyed by all ages and abilities.
Kind regards
James Dennison
Enterprise Manager (Black Country & Staffordshire)
West Midlands Region
M 07484 912898
E  james.dennison@canalrivertrust.org.uk
Canal & River Trust
Ground Floor, Aqua House, 20 Lionel Street, Birmingham, B3 1AQ
Charity Number 1146792