Thank you James Beattie Charitable Trust
We at Asthma Relief Charity are so grateful for your continued support of our work in Wolverhampton.  Thanks to your generous donationswe have been able to place several nebulisers in New Cross Hospital and in the Wolverhampton area.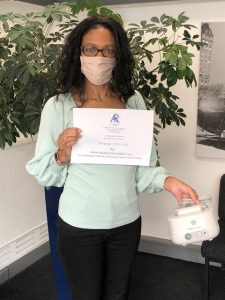 Over the last 5years we have seen a significant increase in demand for our nebuliser care and services and we are now experiencing a further dramatic increase due to the Coronavirus pandemic.
Here are just a couple of the many thank you messages that we have received:-
"I am witing to thank you for the very kind donation of Pari nebuliser compressors which we have received recently for the use of our Asthma patients. We very much appreciate this donation as I am certain do our Asthma patients. Once again, thank you for your generosity".
(From Respiratory Department at New Cross Hospital)
"Can I say a big thank you for the donations we receive of nebulisers.
Your donations have resulted in us supporting patients to remain at home and receive the treatment they require at home and not be admitted to hospital.
Without the donations we have received from Asthma Relief we would not be able to support so many patients"
(From: A Community Respiratory Nurse)
We are only able to provide this vitally important service to those who suffer from asthma and other respiratory illnesses thanks to the generosity of organisations such as the James Beattie Charitable Trust.  Once again, on behalf of everyone at Asthma Relief Charity and our service users, thank you so much.
Kind regards
Dave Penman
Founder & Honorary Manager
Asthma Relief Charity (Registered Charity No. 1063965)
The Shaftesbury Centre
Percy Street
Swindon, Wiltshire
SN2 2AZ
Tel: 01793 524004
Fax: 01793 529005
Click here for our  Website
E mail;  info@asthmarelief.org.uk