Wolves in the Woods, Boundary Way Project: April to July 2021
With grateful thanks to James Beattie Charitable Trust the very popular and successful Wolves in the Woods outdoor stay and play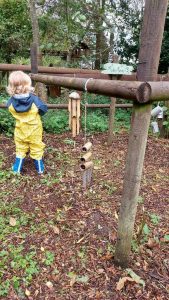 sessions were delivered during Spring and early summer 2021 in Boundary Way Community Garden, Warstones.
Keeping in mind the restrictions and impact of Covid-19, we continued to follow guidance and procedures to limit the spread of the virus and ensure our audiences felt safe in the sessions.
Our overarching aims were:
to support development of under 7s and their parents and caregivers through play
help reduce feelings of isolation and loneliness of caregivers of young children by creating a space to share stories
to support physical and mental wellbeing of young children and their caregivers in this area of the city through outdoor play opportunities
This project aimed to enable Wolves Play Café to engage with at least 60 under 7s and their caregivers in Warstones/Merryhill area of Wolverhampton, which is in the top 10% most deprived areas in the UK, through Wolves in the Woods forest play sessions led by an Early Years Specialist. The sessions were free to access with a range of forest play, STEM related play opportunities, all within Covid-19 guidelines.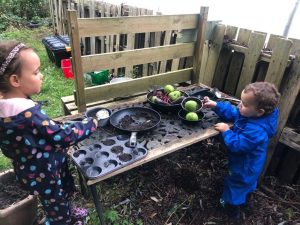 Wolves Play Café staff delivered fortnightly sessions as soon as Covid-19 restrictions allowed from April 13th to July 7th 2021. Our participants, children and adults, had opportunities to socialise with others and help to build peer support networks between caregivers in the community. Little ones gained new skills, had opportunities to learn from first-hand experiences and caregivers shared and took part in simple play ideas to support their children's learning, fun and development in and outside of sessions.
Happy Stories and impact measurement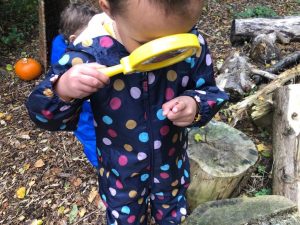 During the sessions we use accessible feedback methods such as pictorial surveys and reviews to gain views, opinions and ideas from both children and adults.
We asked participants what they enjoyed most about the sessions:
"Playing in the mud kitchen, singing and listening to stories, discovering things outdoors (bear/ball hunt, magnifying glass), having a cup of tea and doing mud paintings".
"The children enjoy it and always learn something new and meet new friends :-)"
"I also like the fact that wolves in the woods has given us the opportunity to be involved more with our community, especially for us the Boundary way allotments".