Our multi-disciplinary team approach to the 18 to 25s provides professional, empowering support to two houses in the Black Country.  Understanding the impact of those coming from the care system directly, whilst others are simply rejected by family and friends or are ex-offenders.
Empowerment – Paid professional Empowerment Officers help keep residents focused on maintaining their residency, accessing public funds and obtaining employment, where this applies.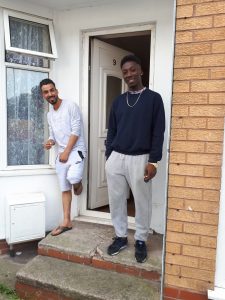 Relationships – Trained volunteer 'friends with a purpose' journey through life with the residents on a weekly basis.
Family – Partner churches available and open to welcome those on the fringes of society, bringing a sense of family by adopting those who society has socially excluded.
The funds provided by The James Beattie Trust will benefit Hope into Action:Black Country enormously, as we firstly don't pass on the charity's costs of support to the tenants, so that we can charge rents low enough to encourage the transition from benefits to paid employment.
Black Country Franchise Manager
Hope into Action: Black Country
A subdivision of the Enterprise Homes Group Ltd
#MakingHomelessnessHistory