St. George's HUB, operated by St.George's House Charity, works with marginalised and excluded men in Chapel Ash, Wo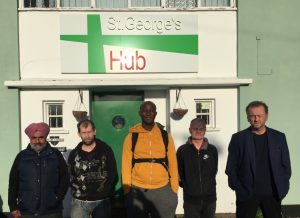 lverhampton. We provide a range of services for clients: a daily breakfast service; identity building support; housing, benefits and employment advice; specialist help for male victims of domestic abuse; a 'Connect' programme to address deep-set issues; practical life-skills sessions, e.g. IT, English, Maths; plus arts, sports, gardening and healthy living activities. The funds from the James Beattie Charitable Trust contribute to the costs of our breakfast club, allowing us to engage with rough sleepers and homeless men in the City. We support them into accommodation, efficiently and effectively whilst also providing a healthy breakfast. Without the support of the James Beattie Charitable Trust our unique range sessions for vulnerable clients would not take place; in a safe space marginalised men engage and develop a wide range of skills enabling them to live independently.
Fazia Bano
Chief Executive
Telephone: 01902 423112
St. George's House Charity
St. George's HUB
St. Mark's Road
Chapel Ash
Wolverhampton
WV3 0QH.
Registered Charity Number: 1072559.